We're delighted to receive the prestigious gold medal in the 2020 RoSPA (Royal Society for the Prevention of Accidents) Health and Safety Awards following our ninth consecutive gold award in recognition of our outstanding health and safety practices.
RoSPA – a charity that promotes the prevention of accidents in the UK, Europe and worldwide – receive entries from organisations all around the world. It is also the longest-running industry awards scheme in the UK.
The gold medal accolade is only awarded to companies that have received more than five consecutive gold awards.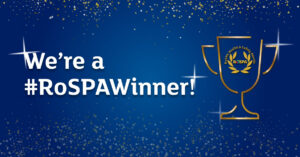 Oliver Jenkins, business development manager at Clegg Food Projects, said: "We're thrilled to have been awarded the RoSPA gold award for the ninth consecutive year.
"We take health and safety incredibly seriously so to win this award once again is testament to our commitment to maintaining exceptionally high standards, especially where the safety of our staff is concerned."
Julia Small, RoSPA's head of qualifications, awards and events, said: "The RoSPA Awards scheme is the longest-running of its kind in the UK, but it receives entries from organisations around the world, making it one of the most sought-after global accolades in health and safety.
"RoSPA wants every employee, wherever they are, to work safe in the knowledge that they will be going home unharmed and healthy at the end of every day. The RoSPA Award winners are vital to help achieve this goal, as by entering they are driving up standards and setting new benchmarks for organisations everywhere. Currently, around 7million people are directly impacted by the RoSPA Awards, but the scheme's influence is even wider."
Organisations receiving a 2020 RoSPA Award are recognised as being world-leaders in health and safety practice.
For more information about the RoSPA Awards visit www.rospa.com/awards or to find out how we can help you then please get in touch with our team.