As we say goodbye to 2021 and as we head into 2022, business development manager Oliver Jenkins has looked back at the last year and what has been achieved despite this challenging time.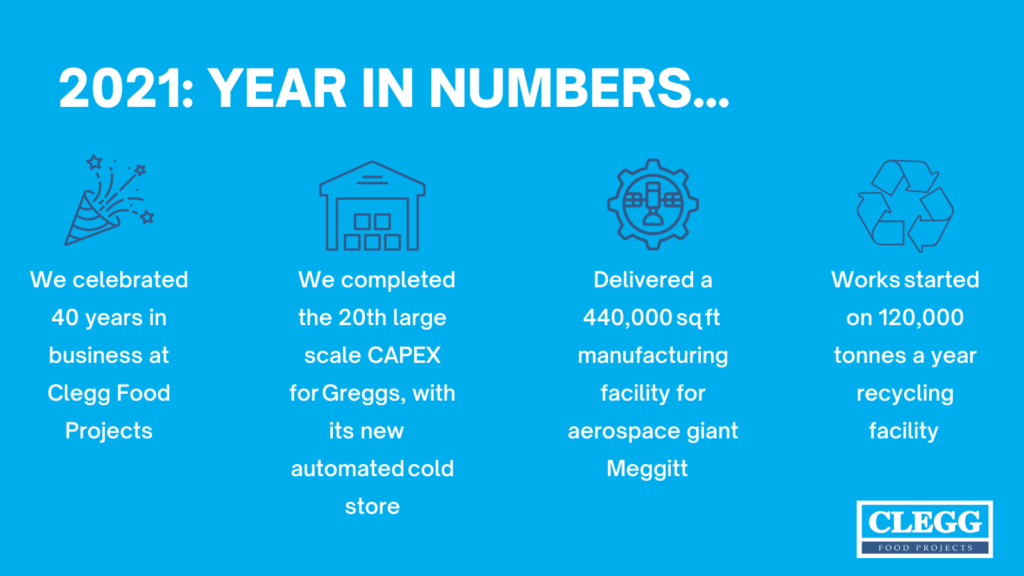 Covid has remained a dominant feature of 2021, how did Clegg Food Projects fare this year?  
The knock-on effects of the pandemic are still being felt throughout the sector, from staffing to supply chain issues, to raw material price increases. Customers and prospects have had to make some difficult decisions regarding many of these. Fortunately, we have been able to navigate many of these challenges and maintain our operations and construction sites to build world class facilities.
What was the biggest achievement of 2021?  
The Clegg and client teams all deserve huge respect for delivering such great projects, helping our customers achieve their goals and turn vision into reality.
From delivering the largest flour mill in recent years for the family miller GR Wrights, to completing a fully automated cold store for our long-standing customer Greggs, 2021 has been a great year in that respect.

GR Wrights New Flour Mill
Clegg is also contributing to the low-carbon revolution having completed ITM's new facility, the world's largest electrolyser factory for hydrogen fuel cells, and we have also started work on Sherbourne recycling centre, which when completed will recycling over 120,000 tonnes a year of household waste.

ITM Power
What was the most exciting project this year?  
We are building a vertical farm for Fischer Farms; these innovative facilities have the potential to produce food sustainably in controlled growing environments, significantly reducing food miles and solving many food supply issues. What was once a thing of science fiction, is now becoming a reality – except the only rocket you will find here is the salad. This could be the future of farming and we are pleased to be a part of it.

Fischer Farms
How is 2022 shaping up?  
We are seeing businesses having to adapt and evolve to the everchanging landscape and consumer demands. 2022 is looking healthy, despite the doom and gloom in the news. Many of our clients and prospects are doing well and are looking to invest in their facilities to enable them to grow and meet customer requirements.
What are you most excited for next year?  
2022 will see several of the projects described earlier completed, which is always exciting to see the finished facilities.
There are also number of strategic projects in the pipeline that we are keen to support clients -from concept to construction. Many of these will be highly efficient and sustainable manufacturing facilities.
I'd also just like to say a big thank you to all our customers, the Clegg team, and all our partners and supply chain. We hope you manage to enjoy this festive season and wish you all the best for 2022.
If you're planning a project in 2022 then find out more on our project page or to find out how we can help you then please get in touch with our team.